Interview
TOM WLASCHIHA on the third season of "Das Boot" and his career [INTERVIEW]
"As an actor, you have to constantly improve your performance"
We spoke to the German actor Tom Wlaschiha (Stranger Things, Game of Thrones, Crossing Lines, Enemy at the Gates) about the third season of Das Boot and the beginnings of his career.
Jan Tracz: What can you tell me about your main character of Das Boot, Hagen Forster? 
Tom Wlaschiha: Forster, when we meet him, is the head of the Gestapo in France. He's a very ambitious man and an indisputable believer in Nazi ideology. Hagen feels that it is the only right reasoning and this is the way to live and deal with the surrounding reality. As the story progresses, he's met with several challenges. For instance, he is thrown into horrific situations and commits horrible crimes! However, at the end of season two, respectively, Forster gets promoted and sent to Poland to work in a concentration camp. Although he has some doubts if this is the right move, he's too vain and career-driven, to turn down this fantastic opportunity. And so when we encounter him now at the start of season three, there has been a time gap, and we suddenly examine him as quite a broken man.
That is a tremendous change in his career.
Yes! And it's not fully explained by our show. I think that it's discussed at some point in season three, but it's not fully revealed or explained what has happened in between; that's pretty much left to the imagination of the audience.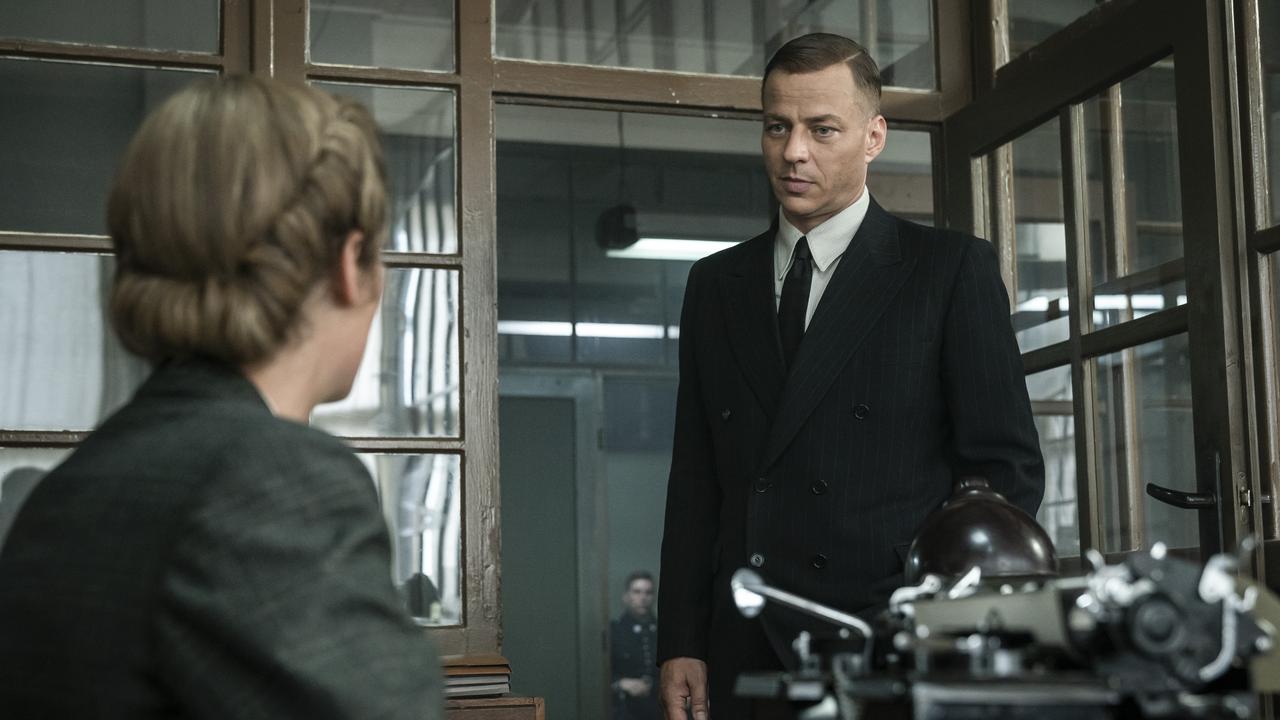 One can imagine what happened in a Polish concentration camp.
Also, it's the first time we see him as a civilian. Surprisingly, during the third season, Forster is sent to Portugal to investigate the murder of another party activist. The whole motive feels like a tiny film noir. Sometimes, I felt like I have been playing in Casablanca!
What Das Boot, as a film, has meant to you before participating in the TV series? Was it the title that has – proverbially – changed your life as a kid?
The first time I watched it, I was eighteen. Maybe. And I know that it had a lasting impression on me. First of all, there's so much happening in the movie. It's set in a German submarine, and it creates this claustrophobic atmosphere that gives you somehow, in a very clever way, the tangibility of the war's horror. What is more, Wolfgang Petersen did quite a brave thing: for the first time, the film actually portrayed German soldiers as human beings, and not as cliche monsters as it had been done many times before (however, understandably). Das Boot proposed a much more subtle and nuanced way of looking at that particularly ambiguous period.
You are a German actor, however, your main advantage in the industry is your English. Have you improved it over the years, or was there a moment that forced you to become acquainted with it? I know that you stayed in the United States after the fall of the Berlin Wall.
Well, initially, when I went to the United States, the Berlin Wall had just come down, and I was ready to explore and travel the whole world. I took the opportunity to become an exchange student that went to the US for a year. For me, it was an extraordinary time because I experienced a feeling mostly known as "culture shock". And I loved it! Then I went back to Germany, and I wanted to pursue a career on stage as I did not even think about film or TV. I wanted to work in the theatre, and that's pretty much what I did for the next ten years (!). I got a place in a drama school, and then I went on to be with several theatre companies all over Germany. And at a certain point, I decided I also wanted to try out camera work. That decision grew in me for several years: I had to redefine myself and my previous career. There was a long and bumpy road ahead of me. Learning some English was a core part of the process.
Every actor has his breakthrough role. For you, it was Game of Thrones, or maybe some other project has opened you more opportunities in the film industry? What is your take on this matter?
Well, I think my career took a quite classical path. I didn't become too successful early on, which in retrospect, was something pleasing. I believe when you're suddenly shot to stardom and fame, then it's really challenging to stay up there all the time. My small success felt rather organic. I did a lot of theatre, and it gave me some acting background. And then, of course, there's always a percentage of luck involved. It's more luck of whom you get to meet and who believes in you. It is crucial to have someone who believes in you (as an actor) and, for instance, gives you an opportunity to play in something new. For me, that one focal point was when I lived in London for a couple of years. It's a pretty ungrateful city for the beginner, but I found a very good agent there. And nobody knew me at the time! He persistently believed in me, and he really worked hard for me to get me some meetings and auditions. Suddenly, I was lucky when the Game of Thrones audition came along, and I booked the part! it was certainly one of the fortunate turning points in my career. I am really grateful to my manager.
In your own words, tell me, why do you believe that the game-changing role has finally occurred? Was it a matter of time, of experience, of your own luck, or a fusion of all of these elements?
Certainly, you need some experience as an actor: what I love about the job is that you never stop learning. There are always new elements to find out and learn. Furthermore, you can constantly improve or work on aspects like an accent or how to play certain non-obvious characters. And then it's the question of age. At twenty-five, I would not have been able to play a part like one in Game of Thrones. There are many factors that have to come together to make something work. Most of the time, you just have to be patient and wait for your own moment to come.