Interview
Lena Góra and Michał Chmielewski on ROVING WOMAN: "Wim Wenders believed in our project" [INTERVIEW]
Góra and Chmielewski discussed their main motivations and how exactly they found a method to shoot that exceptional road movie.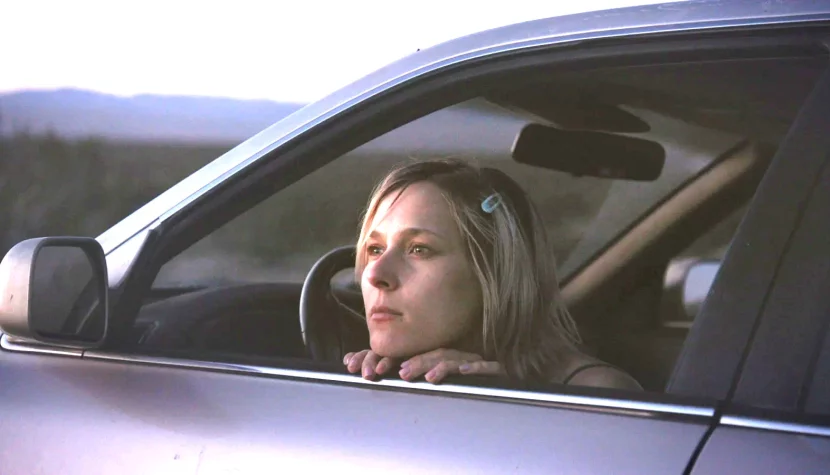 We spoke to Lena Góra and Michał Chmielewski (main actress and the director) about their bewitching Roving Woman, a film touching the various layers of solitude and echoing a cinema of Wim Wenders, who is a producer of their film. Góra and Chmielewski discussed their main motivations and how exactly they found a method to shoot that exceptional road movie.
What is the story behind your first auteur film [Roving Woman]?
Michał Chmielewski: The idea came to our minds when I and Lena met back in Poland when she arrived from LA to shoot a Polish series called Król. Then we started talking about various concepts of doing a film together. We watched our favourite films together to grasp a notion in which direction our future project might be heading. For instance, I showed her Million Dolar Hotel (2000), which is one of the most important titles I have seen in my life (and obviously, it was directed by Wim Wenders). 
Lena Góra: I messaged Michał on Instagram and said, "Hi, I am looking for a film director, and I like your work!". So I have proverbially "found him". There is something in the way he looks at the world that is very close to me. I immediately knew he was the best person for that kind of job. 
MC: After that, we chose the United States and its deserts to be an integral part of our small film. For years Lena lived in the US and knew places like Joshua Tree National Park, thus she showed me all these locations so precious to her heart. Here, she discovered herself and understood her life, and these are also the major motives of Roving Woman. The script consists of our personal experiences. 
There is a spirit of Paris, Texas (1984), a sense of spiritual road movie, and there are nuances from Jim Jarmusch's cinema. From which places did you draw your inspiration? 
MC: Jim Jarmusch is my idol since I became interested in the cinema. His first feature film Permanent Vacation (1980), started a new kind of independent movie genre, which inspired us while we started working on Roving Woman. Besides, there is an element of a raw way of shooting films. I tried to stay honest with my own feelings and with the viewer too. 
LG: For Michał, Jarmusch is the same person who Wim Wenders is for me! Michał understands how to depict the dirt of American everyday life just like Jarmusch did forty years ago!
Wim Wenders was the main producer of Roving Woman. Did you feel his actual support and involvement in your film, or was his help strictly financial? 
LG: His support was tremendous, starting with his approval and belief in us. The moment when he said "yes" to this project gave as a huge energy booster. He became our partner in crime. Wim is such a wonderful human being and was always ready to help us with any appearing issues. He understood the specificity of our film and knew that this project can really succeed. Moreover, he chose the main soundtrack for us, which consists of prominent American artists like Connie Converse. 
To create a film like this, do you have to get to know and then understand the notion of living in the United States?
MC: Probably yes. When we started shooting, it was my first time in the US, and Lena lived there for several years, so our perspectives collided. I knew a bunch of American classical movies, and I tried to avoid the tendency to repeat any unnecessary cliches. Therefore, we used a typical John Doe car instead of some fancy muscle car which often appears in that kind of film. It's a slow cinema, some kind of European cinema which takes place in the US. I assume that such a mix should be refreshing for the audience.  
You made your film with an English-speaking crew. Have you struggled with any language intricacies?
MC: It is both my debut and first English film, and sometimes it was tough, but with Lena and John Hawkes, we built a strong relationship which later allowed us to feel comfortable on set. We also worked with non-actors: finding a common language with them was another challenge. Furthermore, we even shot some random people we met, so the whole film could appear even more immersive. 
LG: The easier thing was that we shot the film in a documentary way. Like Frances McDormand in Nomadland (2020), I became Sara and lived her life during the shooting process. They were constantly following me during the car sequences, and I always felt like having someone on my back. It is really helpful for you when people look at you not as an actress but as a human being/character you currently play. I won't call it a "method acting", but it was an experience after all.