Interview
GAIA WEISS discusses "Marie Antoinette": "Our show portrays a manipulative and misogynistic world of Versailles"
"Marie Antoinette is the twenty-first-century eye through which we will explore the dark, manipulative and misogynistic world of Versailles."
We spoke to Gaia Weiss (Vikings, Mary Queen of Scots, Shepherd), the French actress who plays in the BBC and Canal+ series Marie Antoinette. Weiss talked about her character and how she perceives one of the most influential moments in the history of France – the Revolution.
Who exactly is your character, Comtesse du Barry? What role did she play in that political chess-like game of King Louis XV? 
Madame du Barry is the mistress of King Louis XV and the most powerful woman in Versailles prior to the arrival of Marie Antoinette. Her power of seduction precedes her: Marie Antoinette envied her style, her confidence and her sensuality. She thinks she has found in her a friend, a guide and a protector in Versailles. But everything changes when Madame du Barry sees her as a rival for the king's affection. She then moves heaven and earth to send her back to Austria. Louis XV's favourite will discover to her cost that it is dangerous to defy Antoinette.
How can you describe her nature? Is she a likeable heroine in the whole show? Or was she rather a manipulative figure who has used her social/work position for her own goals? 
Madame du Barry fought really hard to be where we find her at the beginning of the show. She's climbed the social ladder. She came from nothing but very quickly became a maid for rich aristocrats, saw the behind-the-scenes, and grew unimpressed by this class of society which gave her a huge advantage later in life. Thanks to her looks, her brains and her flippancy, she was noticed by a pimp, who went under the name of Count Du Barry. He made her his "cash cow" and arranged for her to meet with the King, who fell madly in love with her and took her as his Favourite! She knows how to make herself indispensable, and draws strength from her femininity and sensuality. I learned a lot from her. In a hostile environment, she succeeded in making a place for herself and keeping it; therefore, she's a modern woman.
Do you believe it was challenging to portray Comtesse du Barry with actual historical truth? How did you manage to find a method for depicting her "inner soul"?
I love working on historical projects because it's like using a time machine: you get to dive into a completely different period in time. One of my favourite parts of the process is doing all the research. Madame du Barry was a big patron of the arts, so there are a lot of writings about her. The most difficult element for me was to connect to my feminine side, my sensuality, so I decided to take dance classes in heels to find a way of her historical movement.
How different was working on that set from the other historical shows in which you have appeared? For instance, if you compare it to Vikings. 
Madame du Barry is probably the furthest character I had to play from the heroine I played in Vikings, who was very masculine, couldn't connect with her womanhood, and where women had a totally different position in society.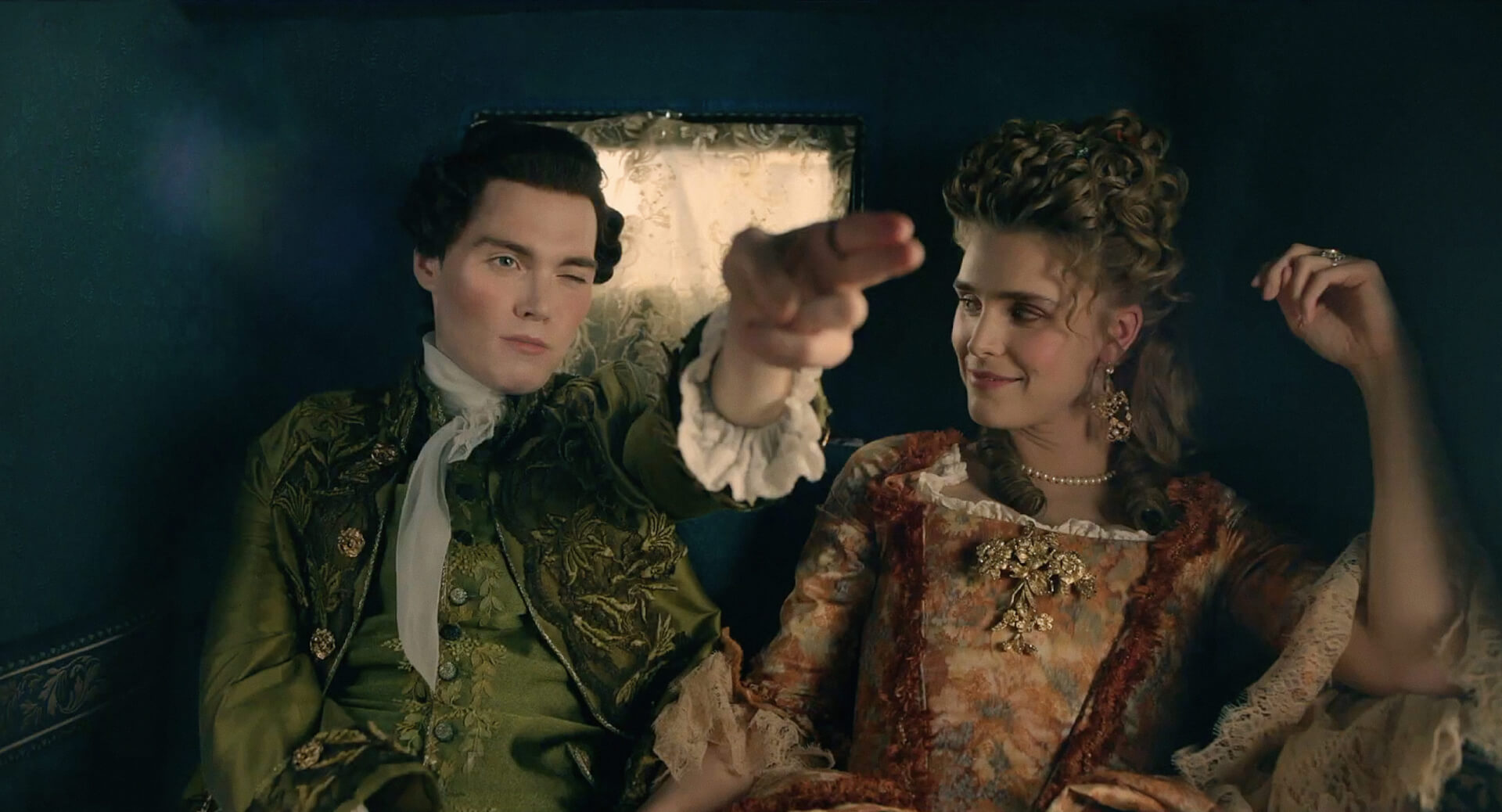 Did you treat the whole project more personally than the other ones? You're French, and once again, after appearing in La Révolution, you came back to that decisive moment in the history of France. 
Being French, I don't think I see French history with the same eye as my English peers. It's more factual for me, I don't romanticise it. It made us who we are now, a nation always fighting for their rights and refusing any form of autocracy.
Has working on that project changed your personal notion towards the French Revolution from 1789? Did you learn anything new?
I always learn something new when I'm working on a new project. Through the characters I play, the research I make, and the people I meet.
For what kind of viewer is Marie Antoinette? Is it only for historical period drama enthusiasts? 
Marie Antoinette is the twenty-first-century eye through which we will explore the dark, manipulative and misogynistic world of Versailles. She embodies our views of personal freedom, individuality, equality and self-determination. What I love about Deborah Davis' writing is the strength and complexity she gives to her female and male characters. I don't think you have to be a historical series lover to be fond of the show.