Features
SEXIST AGENT 007 in the era of #METOO. Should we throw James Bond in the bin?
Starting with No Time To Die, the character of James Bond could be a chance to learn a lesson.
For 60 years, each new installment of the adventures of the English spy James Bond has been accompanied by a huge media stir, but what causes the most emotions is what happens before the film is made in its final shape, i.e. the choice of a new "Bond girl", a supporting character who is associated with the main character usually a sexual relationship. There is usually more than one "Bond girl" in each film, and they contribute to the plot in varying degrees. They are agent 007's helpers, his opponents or just a one-time sexual adventure. They are always stunningly beautiful, very often extremely competent, intelligent and educated, and they are always treated condescendingly and often violently by the main character. Does the character of James Bond and his "girlfriend" make any sense in the post-#metoo era?
There is no denying that the figure of James Bond – a talented spy who drives fast, sports cars with the latest gadgets at hand, an ultra-masculine, sexist macho in a well-tailored suit, who is a ruthless womanizer, not particularly respectful of the opposite sex – is a relic of the past today. The character created by Ian Fleming in a series of spy novels was finally tailored to his time, the 1950s, when sexism was the order of the day.
This way of thinking is the starting point for James Bond in his relationships with women, which is especially evident in older productions starring Sean Connery and Roger Moore as the famous agent 007. James Bond is a sexist who treats women instrumentally, above all to satisfy their sexual needs, often achieving the goal by violence or deceit. His co-stars often have stupidly ambiguous names or nicknames like Pussy Galore, Xenia Onatopp, Holly Goodhead and Plenty O'Toole.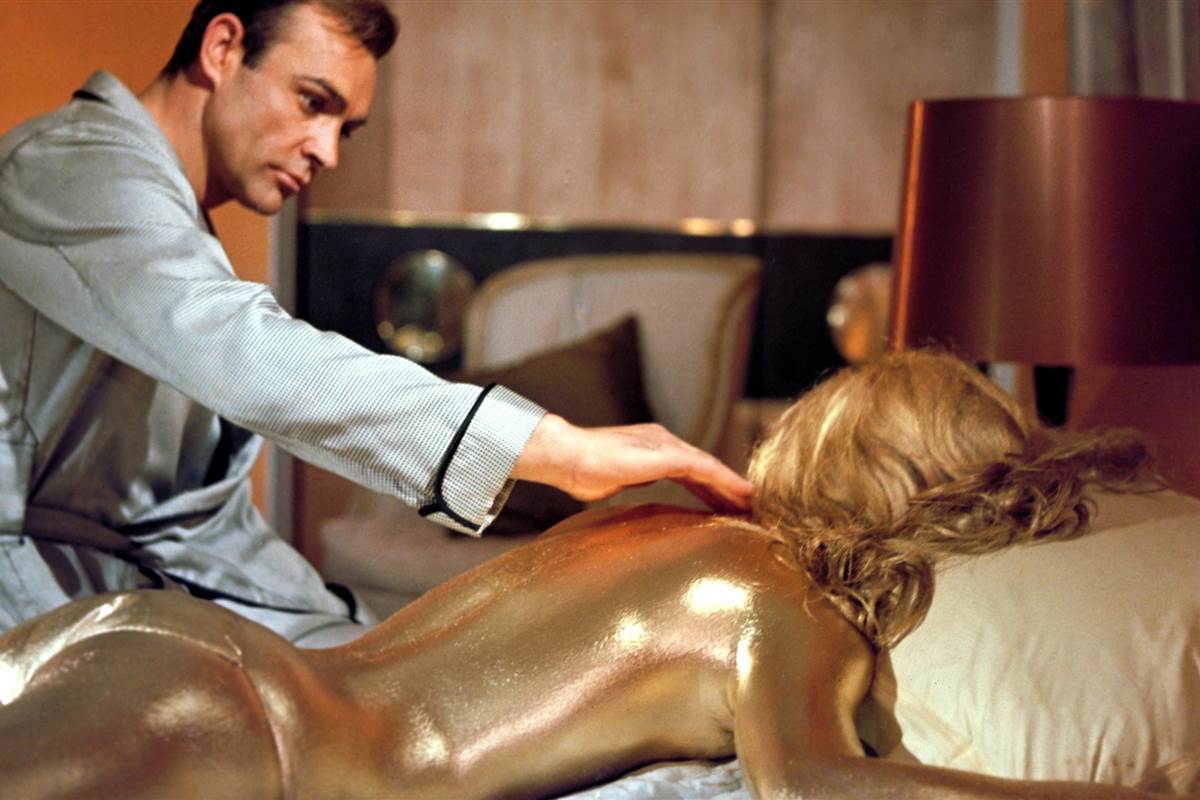 James Bond loves to slap women's buttocks (like Dink [Margaret Nolan] in the pool scene in Goldfinger), grope and pick them up without their consent (like Nurse Patricia Fearing [Molly Peters] in Thunderbolt), enter the bathroom uninvited when a woman bathes (as he does to Fiona Volpe [Luciana Paluzzi] in Thunderbolt), to rip a woman's bra and then suffocate her with it (as Bond does to a certain woman in Diamonds Are Forever), to force a kiss, to pin a woman to the ground with his body and force her into sexual intercourse accompanied by soft, romantic music, as in the scene in Goldfinger (1964) where Bond (Sean Connery) rapes Pussy Galore (Honor Blackman) in the hay in the barn.
Along with the progressing social and moral changes, Bond changed slightly, however, remaining an arrogant womanizer who does not respect the boundaries of his partners. This was the case in Skyfall (2012), for example, where Bond (Daniel Craig) suddenly walks naked into the shower of Severine (Bérénice Marlohe), a former sex slave, who is bathing (a woman who has experienced enormous sexual violence is certainly delighted with this unannounced visit). If anyone would like to recall the above-mentioned scenes, I can help and recommend watching this short video:
James Bond appears to be a perfect example of toxic masculinity, a pattern that should have been a thing of the past a long time ago and is completely incompatible with modern times. So, should we just accept that the character of James Bond does not fit the present day and say goodbye to the world of adventures of agent 007 with No Time To Die and Daniel Craig's final role? Personally, I think it's a smart idea, I don't know what more this series can offer viewers, but no one earning coconuts on the Bond franchise will allow it. And therefore, perhaps the character of James Bond is a chance for an instructive lesson.
"I think you're a misogynist, anti-woman dinosaur, a relic of the Cold War era […]," says M (Judi Dench) to Bond in one scene of GoldenEye (1995). This is not only the first film in which a female character ranks higher than Bond for the first time (and one with whom he has no sex), but also the first film that is extremely self-conscious and points out James Bond's sexism. Perhaps this is a path worth continuing – accepting the nasty nature of James Bond, creating strong female characters able to oppose him and confront his disgusting flaws. Of course, rape and molestation are absolutely unacceptable, but misogyny and sexism are inherent in the character of Bond, we will not make him a feminist hero.