Article
6 ACTION movies MORE CHRISTMAS than DIE HARD
Have you ever wondered why the label of a Christmas movie has clung so firmly and perhaps quite undeservedly to Die Hard?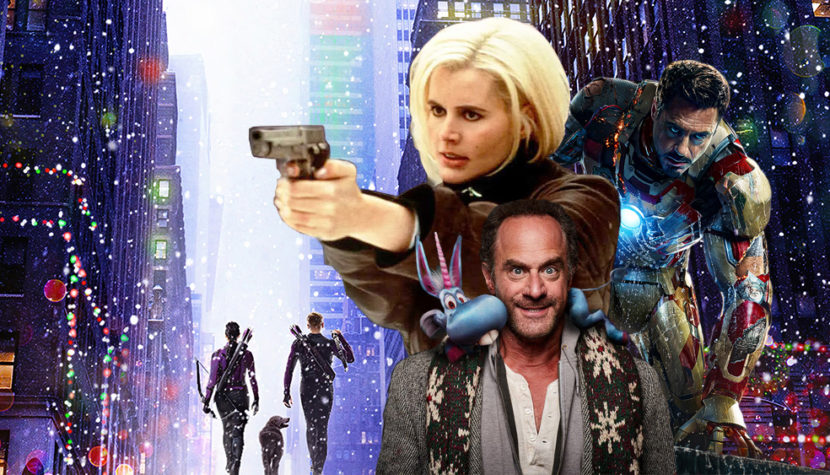 Bruce Willis himself made a blunt statement some time ago, which read no less than: "Die Hard is NOT a Christmas movie!". Let's think about what makes an ACTION FILM a movie at all… a Christmas movie, and one without which we can't imagine Christmas in front of the TV. In order for an action film to be considered a Christmas film, its plot certainly – the discovery of the year – must be set during the Christmas season, and consequently it must feature attributes associated with Christmas, such as snow, Christmas carols, a Christmas tree, gifts, Christmas illumination, etc. Die Hard paradoxically contains surprisingly few of these elements, but apparently line such as "Ho ho ho, now I have a machine gun", or the final fallout of the bearer bonds (yes, my dears, it's not snowing there at all) to the rhythm of the song Let it snow, let it show, let it snow, and on top of that the television broadcast, for example, on December 24, were enough for John McTiernan's film to catch on to the unique trend tying Christmas to the movie, in which instead of a bag of presents we get… a pile of corpses.
In this text, I would like to present films and action series as strongly, or perhaps even more strongly than John McTiernan's film, set in the atmosphere of the holidays, and which neither on TV on this occasion are released, nor are somehow particularly festive. And, in fact, why?
"The Long Kiss Goodnight", dir. Renny Harlin
Let's not kid ourselves, Renny Harlin has been making some pretty good, but in his own way templated and somewhat clumsy action cinema. The creator of Cliffhanger has, among other things, a sequel to … Die Hard, also set during the Christmas season, but while there's plenty of snow in Die Hard 2: Die Harder, the film has neither gained the same popularity as McTiernan's hit, nor is it celebrating triumphs on TV from December 24-26. A similar situation exists with The Long Kiss Goodnight. The film, about an amnesiac assassin (Geena Davis) working for the government, is, after all, a write-out candidate for a Christmas action film! Even the beginning makes it clear, when we see Geena Davis dressed as Santa's helper riding a sleigh during a pre-Christmas street parade, what time of year the action takes place.
In the following minutes we hear a very festive song Rockin' Around the Christmas Tree, while the whole film takes place during a cold winter in an area heavily dusted with snow. And although the pace of the plot slows down a bit the closer you get to the finale, and the action with the ice-skating or the gasoline-soaked doll are just hopeless, it's worth to give The Long Kiss Goodnight a chance and watch it during the holiday season precisely, if only for the snowy climate, the very clear atmosphere of the upcoming holidays, the great duo of Geena Davis – Samuel L. Jackson, lots of cool one-liners, and some pretty cool action scenes, with the final series from a rifle played by Geena Davis hanging from a cord of Christmas illumination.
"Lethal Weapon", dir. Richard Donner
Why, I ask myself, why doesn't Richard Donner's action cinema classic hold the title of a Christmas movie? After all, the action is set in the run-up to Christmas, the film opens with the song Jingle Bells, and the characters wish each other a merry Christmas in every other scene. On top of that, the street and Roger Murtough's house are decorated with Christmas lights, and a dressed Christmas tree stands in the living room like an ox. Not to mention that the policemen at the station practice choral singing of Silent Night, and we get to know Martin Riggs (I'm skipping the scantily-clad morning in the trailer) during a specific $100 shopping spree at the Christmas tree market.
On top of that, in the finale Riggs is invited to Roger's house for Christmas dinner. So what could have caused Lethal Weapon to be almost never mentioned in the context of a Christmas action film? I'm huessing that it's about… the absolute lack of snow, which, as you can see (or rather, can't see), turns out to be the strategic ingredient mostly responsible for creating that special, unique, magical Christmas atmosphere on screen. On the other hand, there wasn't even a snowflake in Die Hard either, so I really don't know.
"Happy!", dir. Grant Morrison & Brian Taylor
Nick (Christoper Meloni) an ex-cop, a brute, an alcoholic, an uncouth simpleton, a killer in the service of the Mafia, dressed in a tattered coat, wrapped in a caricatured long Christmas scarf, gets a heart attack and is taken to the ambulance. After waking up inside the ambulance, a persistently cheerful blue Happy starts flying over the head of the unwashed degenerate. It turns out that the blue creature is a figment of the imagination of a girl kidnapped by a psychopathic Santa Claus (dressed as… a Christmas tree!) and was sent by her to rescue him. And a no-holds-barred ride begins, definitely for the more sophisticated viewer, who is not intimidated by mixing tones and playing with conventions.
Plus the lack of political correctness and the on-screen violence let off the leash, with an afterburner put in the butt. And I guess it is precisely because of the ultra-violence and the fact of making Santa Claus into a kidnapper of children, Happy! is unlikely to ever… become a Christmas series. However, I guarantee that if you like unconventional plot, bloody ride and completely hijacked characters, Happy! will be a Christmas hit for you, although a family screening is unlikely to be recommended.
"Reindeer Games", dir. John Frankenheimer
This is a rather forgettable, but relatively good thriller starring Ben Affleck, Ashley Judd, Gary Sinise and Dennis Farina. John Frankenheimer's film has a lot of surprising (here, highly stilted) twists and turns that make Ben Affleck's adventure involving himself in a deadly situation a quick, smooth and enjoyable watch. There's a Christmas atmosphere over everything, with Christmas carols and holiday songs humming in the background (one of them – Frank Sinatra's The Little Drummer Boy – is sung by Afllleck to himself) and the action area covered in deep snow.
But what predisposes Entangled to be a Christmas action film is found in the final robbery at an inferior casino. After all, the antagonists dressed as Santa Claus there trigger a dynamic and spectacular shootout with casino security, not expecting that Dennis Farina wielding slot machines won't sell his skin cheaply. The film ends with a sequence of scenes in which – spoiler alert – Ben Affleck, in a sultry Santa outfit, spreads the money gained after the robbery over the mailboxes of random people, and himself, happy though with empty pockets, sits down to Christmas Eve dinner with his family.
"Hawkeye"
In a flurry of at best mediocre Marvel series (look: Why I'VE HAD ENOUGH of SUPERHEROES movies), Hawkeye turned out to be a very pleasant surprise. The six-episode series deals with a second-string Avenger, devoid of any powers in addition. And all in all, I don't know if it wasn't the ordinariness of Clint Barton (Jeremy Renner) and his relationship with the similarly brave mortal Kate Bishop (Hailee Steinfeld, adorable in this role ) that made their relationship and adventures easy to follow with great pleasure and sympathy. And over everything, like the aroma of gingerbread, floats the atmosphere of Christmas, in which the series is simply bathed.
Over the course of six episodes, we'll hear plenty of covers of well-known Christmas carols, Christmas decorations accompany every other scene, in one episode Clint and Kate dress the Christmas tree by themselves dressed in festive tacky sweaters, along the way they take in a stray dog in a spur of the heart, and the grand finale takes place at the big Christmas tree on the ice rink. And while the series dovetails quite a bit with the films of the Marvel universe, it stands on its own feet and can safely be returned to as a standalone story surrounded by the aura of the holidays, every year, like Die Hard mentioned in the introduction.
"Iron Man 3", dir. Shane Black
Shane Black is eminently drawn to Christmas. Maybe it's some childhood deficit, shortcomings or misplaced gifts under the Christmas tree that the writer, director and hogtied Hawkins from Predator tries to compensate for by setting the action of his films precisely during this magical period. Shane Black, after all, is responsible for the scripts for the two actioners described above, Lethal Weapon and The Long Kiss Goodnight. Also his Kiss Kiss Bang Bang takes place during the holidays, but since somehow I didn't particularly feel the "hohoho Merry Christmas" vibe there, I didn't add it to the compilation. Iron Man 3, on the other hand, Blake's fully original creation (director and screenplay) already has really quite a few, if not a set of Christmas attributes!
Indeed, we can hear well-known Christmas songs (such as Jingle Bells – a remix performed by the Bombay Dub Orchestra, in the scene of the first remote fitting of Armor No. 42), or the Merry Christmas wishes uttered by Tony Stark as all his armor flies off to the site of the final action in glory and splendor. There's also plenty of snow and Christmas illuminations, with socks prepared for presents hanging over the fireplace in Tony's house. Even the final showdown in the harbor happens around some harbor building lit up like a Christmas tree. And for dessert there are explosive baubles (not little bombs, but authentic ones from a Christmas tree) exploding in the opponents' faces with something… exploding.