Review
GREEN BORDER. Great cinema we don't want, but we desperately need
Anyone who uses the internet or follows any reputable news source shouldn't be surprised by what they see in Green Border.
Sitting in the cinema chair at the Venice Palazzo del Cinema during the world premiere of Green Border, I wasn't at all prepared for what awaited me. My thoughts revolved around the fact that between the previous screening and this one, I hadn't had a chance to have a cup of coffee. Consequently, the risk of falling asleep during the movie seemed quite likely – let's be honest, the festival lifestyle doesn't exactly favor films that last two and a half hours. However, as it turned out, I was greatly mistaken.
It's been a long time since a screening moved me as much as this one did. And clearly, I wasn't the only one because the standing ovation from the audience continued long after the end credits. Even if you wanted to, there was no blinking during Agnieszka Holland's latest work (and yes, I have no reservations about using that word here). The emotional weight it carries is absolutely overwhelming – there's nothing else to do but sit firmly in your seat and wrestle with yourself to make it to the end. Not because it's such a bad screening that you don't want to watch it, far from it. The situation is much more complicated – it's a film that so vividly portrays the subject it tackles that around halfway through the first act, you've simply had enough. Enough of the human suffering pouring from the screen, not in waves, but in a real tsunami.
Of course, it's not as if Holland is revealing previously unknown facts to the audience. Anyone who uses the internet or follows any reputable news source shouldn't be surprised by what they see in Green Border. The fact that the refugee crisis is a real problem, not just politically but also humanitarian, is common knowledge – though sadly denied by some. These are harsh and brutal words, but there's a significant difference between seeing documentary photos or videos of anonymous people in a crowd and following characters who are, while fictional, portrayed with names, faces, and, most importantly, life stories. Because you get to know them at the very beginning of their journey when they are still full of hope and belief in a better tomorrow for themselves and their loved ones, the suddenness and violence of the dehumanization process hitting refugees, constantly shuffled back and forth across the Polish-Belarusian border, hit you even harder. The feeling of overwhelming powerlessness in the face of the enormity of human tragedy quickly goes from uncomfortable palpability to being deeply paralyzing.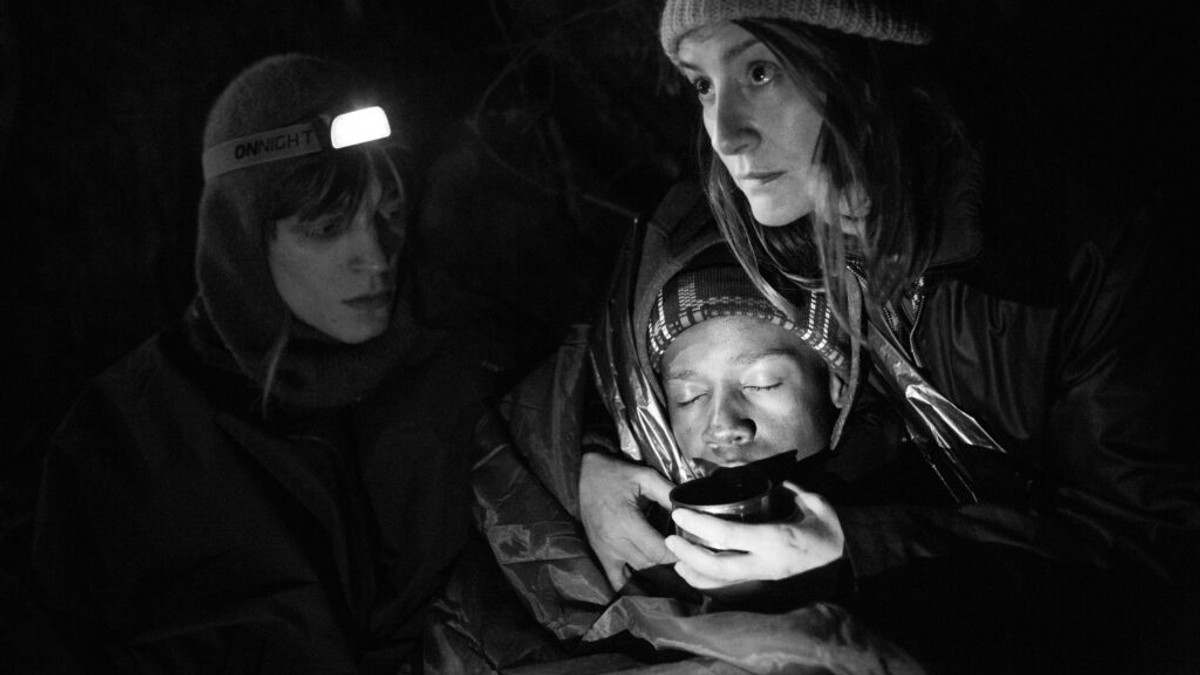 Green Border is not a film about politics but about humanity. Politics merely provide the backdrop for a story about human suffering and its limits. The most controversial, politically speaking, is Bogdan's anti-government monologue during a therapy session, delivered by Maciej Stuhr's character, who ultimately appears to be under the influence of drugs. Consequently, it's hard to take his words seriously or treat them as propaganda. It's also an overstatement to claim that the film is anti-Polish. If there are scenes that depict Poles in a negative light, they are truly few and far between, overshadowed by those that show a willingness to help those in need. Of course, among the border guards, there are cruel and ruthless individuals, but there are also those whose conscience is awakened, who begin to question the rightness of their actions. In this story, told through the raw, black-and-white, documentary-style cinematography by Tomasz Naumiuk, there are indeed many shades of gray.
Green Border is a film that, unfortunately, many may not want, but it is very much needed, not only for the Polish but also for the European society. When it has its premiere, don't just walk, but run to the cinema. Try to appreciate the fact that you have this opportunity.