Review
CALIGULA. "That porn movie with famous actors"
Caligula is a spectacle of exaggeration.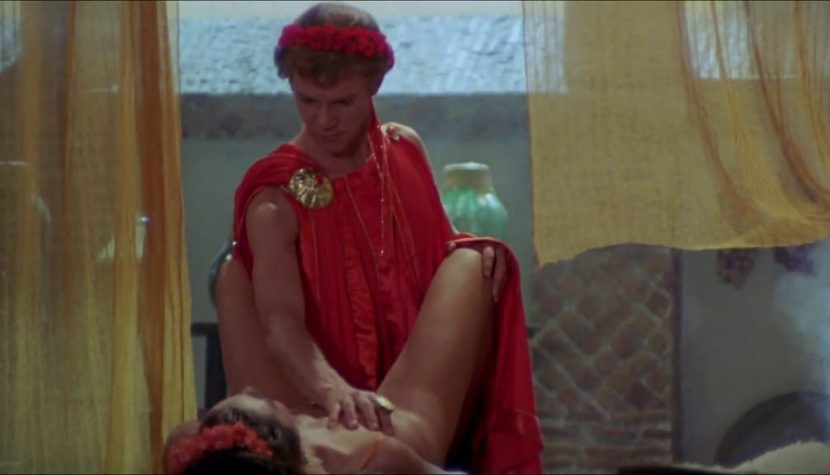 I saw this movie many years ago after having fun on New Year's Eve. The screening made me realize that my celebration was not the maximum that can be squeezed out of life. Today, sober, I will assess how Caligula – one of the biggest scandals of cinema is aging. An image derided and labeled perverted, to which the infamous label of "that porn movie with famous actors" and a great excess of form over content clung. A film that brought its creators to court on charges of spreading obscene content.
The hit series Rome proved that intrigue, sex and crime create not only the fate of the world, but also the material for a strong show. Tinto Brass's Caligula from 1979 used a similar formula before, but its creators treated historical realities as a pretext. They also simplified the drawing of the characters and the description of the mechanisms of power, but set in motion the original film creature, breathing violence and sexual debauchery. The film looks like a dirty and vulgar alter ego of a "good" historical picture; bastard of sandalwood cinema and pornography. Instead of a clear and coherent plot, it proposes a parade of orgies, decapitations and sadistic pleasures. This is its strength and weakness at the same time.
Young Caligula becomes Caesar. Soon Rome will become the backdrop of cruel and perverse practices. So much for the story… In Caligula, Rome is a cesspool. A hotbed of debauchery, a blood-soaked breeding ground for evil. There are no positive characters here. Treason comes from everywhere, and power means crime – against rivals or innocent people. Killing cheers you up, dispels boredom, entertains you in arenas and palaces. It's the same with sex. Hetero and homosexual games, incestuous orgies, torture intertwined with the delight of executioners. Animals and deformed, mutated-looking figures against a tangle of bodies. Friction movements in the foreground and deeper in the frame as an inseparable element of the depicted world. Historical realities are treated here very conventionally. They are not to interfere with the festival of debauchery and not overshadow the phantasmagoric picture of Rome as a great BDSM club at the gates of hell.
Caligula is a spectacle of exaggeration. It is diligently co-created by Malcolm McDowell, who depicts the titular tyrant with a thick line. The actor looks like a degenerate peacock from an ego the size of the Coliseum. And he's having a great time, as if he knew that such an attraction – boastful dancing in a tunic among models – doesn't happen often in a career. McDowell is narcissistic and utterly rotten here. It does not humanize, it does not justify the hero. He plays on one note, but remains very suggestive and clearly enjoys making Caesar disgusting to us. This is a sharp, bold creation in the type of "there is no tomorrow". Already in A Clockwork Orange, the actor proved that he is made for degenerate roles. Here he consolidated his position as a "professional bastard" that was to dominate his career thereafter. McDowell is accompanied by other talented actors from decades ago: Helen Mirren, Peter O'Toole, John Gielgud. what of it? They have little to play. But years ago it was a media shock – top performers, and they agreed to show in "almost porn".
And what does Brass' picture tell us about the world of power? If you happen to hear in the bun line that politics is dirty and rotten, be aware that Caligula aims for similar wisdom.
It was a difficult movie from the start. Production took three years and cost millions. It differed the director (dreaming about erotic art cinema) and the producer (the publisher of the peppery "Penthouse", who shot the porn scenes here himself). Caligula shocked the viewers, left a bad taste in the critics. The creation has been around the world in several versions – it is available with porn elements, as well as in a milder, cut version. I watched it with all package, which I consider the only sensible solution. Well, what, would you like a Commando or Cobra with cut action scenes?
Movie in bad taste. Preying on the lowest instincts. Such labels were used to close the show after its premiere. And of course, the plot is a poor work. Ethically – based on dubious grounds (to shock often and at all costs). The staging is so rich that it's almost overloaded. The cadres breathe debauchery, lust and decadence. The exuberant stage design is actually a full-fledged hero here. Gold, elaborate costumes, bizarre masks and the ubiquitous cult of sexual organs attack our senses. The machine for "mowing heads" stands out in particular – a prop like from a black metal musician's dream. And since the camera hardly leaves the room, the viewer really feels the stench of this world.
A poor script and a heavy director's hand make Caligula clumsy. Also monotonous – nudity, corpses and the hero's wild enthusiasm are the basic components of the work, recurring at regular intervals. The film will probably not be historical enough for historians and not pornographic enough for porn fans. The pretextual nature of the plot and the creators' passion for shocking resemble eurotrash from the hand of junk dealers like Jesus Franco. On the other hand, you can also feel a solid foundation of American dollars; they allowed the set designer, who had previously supported Fellini, to go wild. However, for a mainstream film that was supposed to earn its money, Caligula was far too messed up.
But it's hard to find another picture so invasively and unbearably filthy, so full of momentum in spreading an unhealthy aura. With such a meticulously prepared and exposed parade of phalluses and vaginas – artificial and real. Be aware that you will be wading through the camp and abandon all hope for smooth Gladiator visions. Whoever accepts the theatricality and stickiness of the spectacle will perhaps give a thumbs up. It's hard for me to answer the question of whether the film has aged, because I get the impression that it was never particularly "fresh" or shot at the right time. Caligula is moving along a different, separate trajectory – and will stay there.
The uncut version lasts two and a half hours. Two and a half hours of butts, tits, scenes of murder and sadism. Are you into it?