Erotic Cinema
Sensual and erotic. TOP 10 SEXIEST MOVIES
What are the most sensual movies ever made?
The sexiest movie can be anything. It may contain unsimulated sex full of graphic, strong intercourse scenes, or on the contrary – scenes of simulated sex on the screen are stylized to such an extent that they become an unreal, attractive image. Some focus on raw realism, others on a romantic scene. It happens that the sensual, erotic atmosphere is achieved only with the right photos, music and scenery, while the actors do not even touch each other. Regardless of which version attracts us the most, there is plenty to choose from. Here are the 10 sexiest movies in cinema history.
Pool (1969)
The film by Jacques Deray (whose remake was made in 2003 by François Ozon) uses a formula proven in cinema, combining sex and criminal intrigue. Flirting and hidden grievances cause that the pool is watched with tension growing with every minute. The writer Jean-Paul (Alain Delon) and his girlfriend Marianne (Romy Schneider) spend their holidays in a villa in Saint-Tropez. The idyll is interrupted when one day Harry (Maurice Ronet), Marianne's former lover, arrives unannounced with his 18-year-old daughter Penelope (Jane Birkin). From that moment, sparks fly between the characters, and the atmosphere is thick with emotions and tension, also sexual.
Body Heat (1981)
Sex, murder, deception – there's nothing sexier than a combination of romance and crime during the hot Florida summer. The main character of the film is lawyer Ned Racine (William Hurt), who starts an affair with Matty Walker (Kathleen Turner), a beautiful housewife whose wealthy husband is never home. This erotic thriller is one of the most important films in the neo-noir genre, drawing on the popular film noir of the 1940s (the film draws in particular from Billy Wilder's Double Indemnity). One of the central figures in film noir is the figure of the femme fatale – an extremely sexy, beautiful, intelligent woman who leads the main character, a man, to destruction. This role is played by Kathleen Turner – the role of Matty was her screen debut, but it is an iconic role that marked the further path of the actress built on the awareness of her own sexuality. It is, among others, thanks to Turner's great, sensual role, which is full of sex appeal. Body Heat is one of the sexiest films.
Nine and a Half Weeks (1986)
There is no doubt that Adrian Lyne's film is one of the sexiest movies that exists, and it is especially known for two famous, iconic scenes. The one where Elizabeth played by Kim Basinger performs a memorable, sensual striptease to the sounds of You Can Leave Your Hat On for John (Mickey Rourke) and the kitchen scene. It has been known for a long time that through the stomach to the heart, and sex and food are inextricably linked. The director took advantage of this aspect by shooting a close-up scene in which John feeds Elizabeth, making her guess what she just ate. The heroine is blindfolded and takes turns eating what her lover puts in her mouth: eggs, strawberries, jelly, pasta, spicy jalapeño and even cough syrup.
The Cook, the Thief, His Wife and Her Lover (1989)
Peter Greenaway's film is a bold, stylish and sexy film masterpiece, although it is not lacking in nauseating scenes. Greenaway puts a strong emphasis on corporeality in her film, and it's not just about sex. However, it is love that is the main theme of this visually phenomenal film. The mean and evil gangster-thief Albert Spica (Michael Gambon), the eponymous thief, spends his evenings at London's Le Hollandais restaurant run by chef Richard (Richard Bohringer). He spends time there with his retinue and beautiful wife Georgina (Helen Mirren), whom he does not respect at all. During one of the evenings in a restaurant, a relationship develops between the woman and one of the restaurant guests, Michael (Alan Howard), which turns into a romance. Greenaway skillfully plays with colors (each room of the restaurant and outside has its own color), space and music, creating a sensual atmosphere of a film about an exploited, humiliated woman who finds true love and intimacy.
Basic Instinct (1992)
The interrogation scene, Sharon Stone, her white dress, jacket – Basic Instinct is bursting with sexual energy. Catherine Tramell (Stone) is an intelligent and stunningly beautiful crime writer who becomes involved in the murder of her ex-lover. The investigation is led by Nick Curran (Michael Douglas), who is seduced by Catherine and starts a fiery affair with her. The heroine wraps a detective around her finger and skillfully plays with the policemen trying to solve the mystery of the death of her former lover. In the iconic interrogation scene, the heroine, wearing a short white dress and no panties, spreads and crosses her legs in front of the embarrassed and bewildered law officers, showing them her pussy. Basic Instinct is, like Body Heat, a nod to film noir and a typical femme fatale.
Eyes Wide Shut (1999)
Stanley Kubrick's masterpiece is an outstanding combination of drama and erotic thriller about marital problems. William (Tom Cruise) and Alice (Nicole Kidman)'s relationship is put to the test when the wife confides in her husband about her erotic fantasies about another man (by the way, this monologue by Nicole Kidman is one of the best in the history of cinema). Shocked, William sets off into the dark night, getting entangled in a series of strange events. This is a film full of sexual tension – a complex story about marriage and sexuality.
In the Mood for Love (2000)
Kar Wai-Wong's film is a visual gem telling a story set in the early 1960s in Hong Kong. Mrs. Chan (Maggie Cheung)'s secretary and Mr. Chow (Tony Leung) live in adjoining apartments across the wall. Left behind by working spouses who are also having an affair, the characters begin to have deeper feelings for each other. Playing with the right framing, stunning colors, costumes and unusual set design, the director perfectly captures the dense atmosphere between the two characters who unexpectedly fall in love with each other. There is sexual tension in the air and an expectation of fulfillment that will never happen. This is by far the most sensual and sexy video without sex.
Love (2015)
Although some bluntly call the film porn, Gaspar Noé, a French director known for his expressive style and powerful, emotional images, simply created a comprehensive and honest film about falling in love, love, passion, unbridled sexual desire, jealousy and betrayal. Its actors are real, and the sex, which probably takes up a lot of screen time in the film, is unsimulated. The main character of Love (2015) Murphy (Karl Glusman) recalls his relationship with Elektra (Aomi Muyock) interrupted by his betrayal. Love is not only sex itself, but also a lot of real emotions.
The Handmaiden (2016)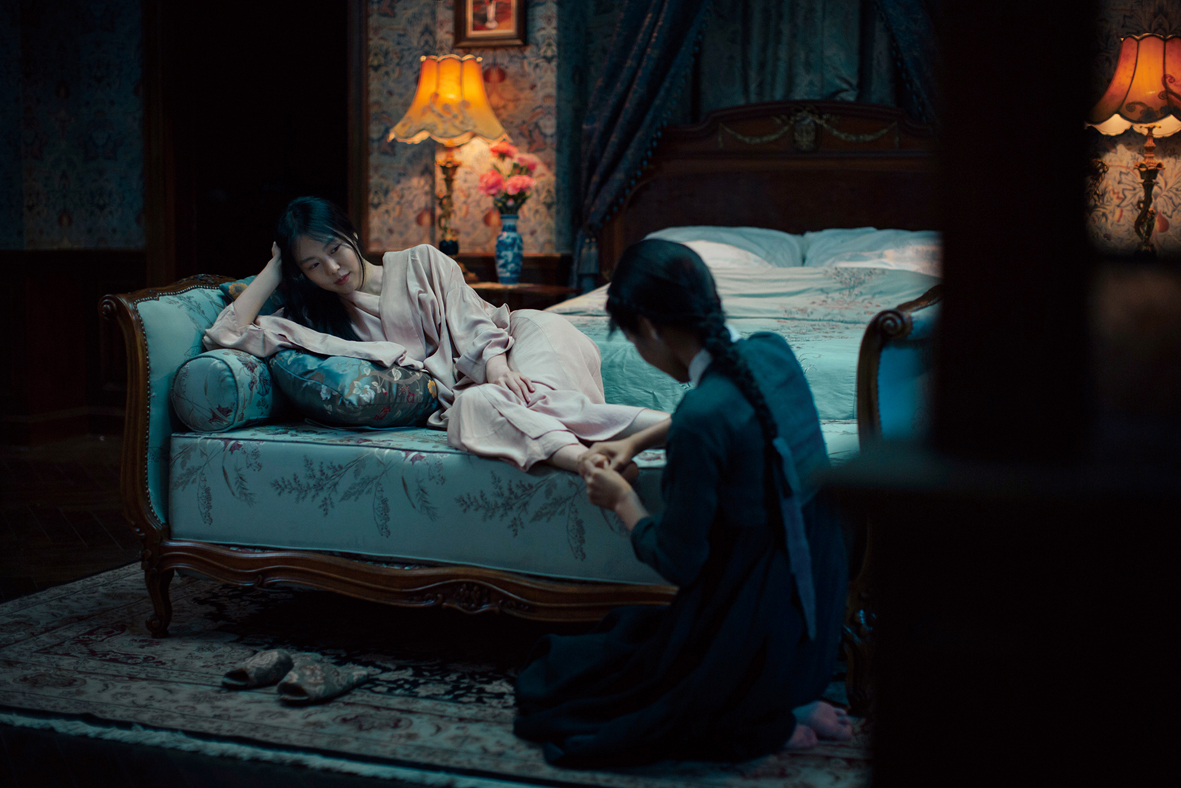 In Park Chan-wook's film, love and money are at stake. In the 1930s in Korea under Japanese rule, the so-called "Count" Fujiwara (Ha Jung-woo) has a cunning plan. He wants to make Mrs. Hideko (Min-hee Kim), a beautiful Japanese woman, fall in love with her in order to take over her fortune. To this end, he hires the titular servant (Kim Tae-ri) to help the rich Hideko, whose task is to gain the employer's trust. This great thriller is full of sensual eroticism and sexual tension between the main characters. A love triangle, sexual fantasies, lust, scheming and intrigue – it's all in this sexy film by the Korean director.
Paris, 13th District (2021)
The almost seventy-year-old director Jacques Audiard has created a surprisingly true film about young people looking for themselves and closeness in a big city. His Paris, 13th arrondissement is an adaptation of selected fragments of the comic book Laugh and Death by Adrian Tomine, which two years ago also resonated widely in Poland. The film is co-written by Céline Sciamma, director of the sensual Portrait of a Lady on Fire. Audiard's Paris is the capital of modern love, where three protagonists – Emilie (Lucie Zhang), Camille (Makita Samba) and Nora (Noémie Merlant) – are looking for life fulfillment, getting involved in romantic relationships along the way. Audiard looks at its heroes lost in life with tenderness and empathy, creating an extremely sensual and seductive love story.