Erotic Cinema
PORN in HOLLYWOOD. Actors and actresses with experience in the XXX industry
Celebrity life in Hollywood is not always as colorful as it seems. Some stars were involved in the porn industry during their careers…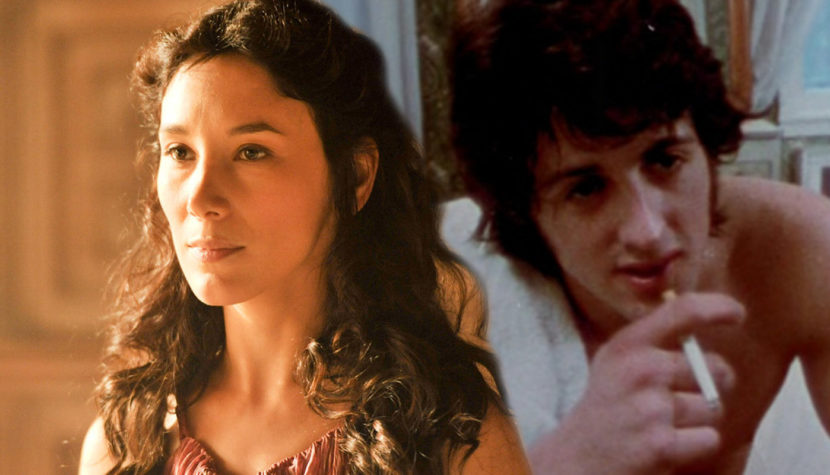 Before actors and actresses reach for the coveted fame, they often face many years of shameful occupations and humiliations.
Cameron Diaz
Looking at Cameron's natural sex appeal and positive energy, it's hard to believe that the actress didn't immediately catch the attention of Dream Factory producers. The beginnings of the star were difficult. It was the lack of interesting professional offers and money that prompted the actress to appear in She's No Angel from 1992 – a bold, though rather niche production, telling about the exciting course of a certain nude photo shoot … Diaz, then only twenty years old, played the title (not) angel . After the role in The Mask (1994, dir. Chuck Russell) and gaining fame, the star began to regret her heavily naked performance. After a long battle, in 2003, she won a ban on distributing the film (by the way, she was lucky to star in it before the age of the Internet). It is also an open secret that John Rutter – the legal owner of the material – blackmailed Cameron by making the film available, thus extorting several (and perhaps several dozen) million dollars from the actress. It does not seem that these efforts of the star have given anything – apparently She's No Angel can still be found on the Internet. But should Diaz be so ashamed? Who knows, if it wasn't for that stupid video from the beginning of her career, maybe she wouldn't dare to appear in the famous copulation scene with a car windshield in Ridley Scott's The Counselor (2013, pictured)…
Sylvester Stallone
All his fans heard about Slya's porn episode. The actor was unlucky – he did not expect that the creators of the porno in which he appeared as a twenty-four-year-old would decide to cynically use the success of Rocky (1976, dir. John G. Avildsen) and re-release the film for distribution in erotic cinemas. What prompted the young Stallone to portray the "Italian stallion" in the short film about love called The Party at Kitty and Stud's (1970, directed by Morton Lewis)? Lack of money. The beginning of the 1970s was extremely bad for the actor: he slept at the train station, had nothing to wear and nothing to eat. For the role of "Italian stallion" he received … 200 dollars. Today, Sylvester could snot on the notes he earned back then, but at that point in his life, it was a sum that was decisive for survival.
Kevin Costner
Apparently, as a young man, he agreed to star in porn, because at first he thought it was a "normal" movie. When he realized what was really going on on set, he just went for it – but never starred in any more pornographic productions after that. Costner waited a long time for his fame, hence the enthusiasm of the novice actor in accepting every film-related commission that came along. The star does not remember the porn incident well, but on the other hand, he does not regret it and does not deny it. He believes that difficult beginnings, various experiences and the fact that he had to work hard for his success made up the person he is today.
Traci Lords
A real legend of the 80s XXX cinema. She started her career illegally – she was a minor and starred in most pornographic films between the ages of 15 and 18. She got away with it for a long time because she used a fake ID, which eventually came to light and Traci was arrested. In this situation, she decided to change her career: she abandoned erotic films for feature films. In fact, cinema has always been her dream, as evidenced by her stage name: Tracy Lord, played by Katharine Hepburn, is the heroine of The Philadelphia Story (1940, directed by George Cukor). The porn industry took advantage of the young girl's naivety, giving her the illusion of escaping from traumatic childhood memories filled with her father's alcoholic excesses, sexual abuse and depression. After breaking up with porn, the actress became an icon of sensational and B-movies. Traci is also known for her performances in such films as Zack and Miri Make a Porno (2008, dir. Kevin Smith), Blade (1998, dir. Stephen Norrington) ) or Cry-Baby (1990, dir. John Waters). Traci Lords was also Scorsese's first choice for the role in Casino (1995), which was given to Sharon Stone after she declined.
Jackie Chan
Jackie Chan has been looking for a place in the cinema for a long time, playing various roles. He tried, among other things, in the genre once popular in China: pornocomedy, appearing in 1975 in the film Hua fei man cheng chun. His role? A rickshaw driver horny for the girls being transported. However, the actor did not find himself in this mix of laughter and sex, and that's a good thing: soon he created his own, trademark mix – a combination of laughter and kick cinema. Chan does not regret his searches from years ago and believes that he has no reason to be ashamed. In his opinion, old porn productions were much more prudish than today's, and his performance was not particularly sharp. It's hard to disagree – the film is decent enough to be watched on YouTube.
Jon Hamm
The hunk from Mad Men is the epitome of male class and elegance. It is even harder to imagine Jon Hamm undressing in pornos – because he has never worked in this industry as an actor, only … a set designer. He took up this job reluctantly, forced by his poor financial situation. The star reassures, however, that these were mostly soft productions. Hamm hasn't worked on heavily hardcore films, but he still remembers his stint in the porn industry as dehumanizing and degrading. He confessed that if he had to "move furniture among sweaty naked people" having mechanical sex any longer, sooner or later he would suffer morally and would be a different, much worse man today.
Sasha Grey
The only case on this list where the porn career is better known than the movie career. Sasha will probably forever remain primarily a pornography superstar, the only actress of adult films who is associated even by people who do not watch this type of production: if only from memes. After retiring from the XXX industry, Sasha uses her fame to fight for causes she believes in, such as women's rights, promoting vegetarianism and encouraging children to read (she is the author of two books herself). You can still see her on the screen – but only in "polite" films. She performed, among others in The Girlfriend Experience (2009, directed by Steven Soderbergh), Open Windows (2014, directed by Nacho Vigalondo), Would You Rather (2012, directed by David Guy Levy). Unfortunately, directors rarely give a 30-year-old American of Polish roots a chance to prove herself in a role that is not oversexualized. Let's hope that changes because the camera really likes Sasha. Oh, just to be clear: Sasha was first and it was Krystian Szary who got the name from her.
Sibel Kekilli
The actress is known primarily from Game of Thrones, in which she played Tyrion's lover, Shae. The couple's plot included many unprudish, heavily nude scenes – but to Sibel Kekilli they must have seemed childish. The actress has extensive experience with pornography: and we are not talking about a youthful prank or an attempt to improve a poor financial situation, but about a long-term career in the adult industry. Under the pseudonym Dilara, the beautiful 38-year-old Turkish origin starred in many German XXXX productions. Unfortunately, although the actress left the porn industry a long time ago, people still remind her of her past, and Kekilli often falls victim to stigmatization. This happened e.g. on the occasion of being awarded the Golden Bear and the European Film Award for the best film Head-On (2004, dir. Fatih Akin). Although Sibel's sensational, passionate acting game brought her nominations for important awards and critical acclaim, there was no shortage of zealots and hypocrites who were openly scandalized in the German press and television that "such" a woman was allowed to play a role in a "serious" film, and also the audacity to reward her…
Tom Sizemore
The porn career of the star with the characteristic appearance of a thug has had a different path than the rest of the people on this list – Sizemore began starring in XXX films after gaining recognition in the film community. The actor has undergone an astonishing metamorphosis: from appearances in Heat (1995, directed by Michael Mann) and Saving Private Ryan (1998, directed by Steven Spielberg) to making amateur porn recordings in which he cast himself and hired prostitutes. In front of the camera, Tom had rough anal sex with several girls. Well, if you call yourself "Sizemore", you don't have to come up with a porn nickname anymore… Unfortunately, the actor has more harmful excesses than fulfilling his porn star fantasies. In addition to compulsively taking drugs and beating his partners, Sizemore was alleged to have molested an 11-year-old girl – simply disgusting.
Arnold Schwarzenegger. A cautionary tale
Let's imagine a young, barely twenty-year-old Arnold, who leaves his Austrian village for America. He hardly knows anyone here. He speaks very little English. He is a newly minted Mister Universe and world champion in bodybuilding. It looks like a Greek statue. Who might be interested in it? It's obvious – editors of erotic magazines. Arnie posed for gay magazines, thinking – due to a linguistic misunderstanding – that the photos were made for bodybuilding magazines. But it was even more dangerous. A guy once asked Schwarzenegger if he could videotape him while he was training naked – supposedly the footage was to be used to make a documentary about bodybuilders. In reality, however, the film was cut and edited, and Arnold himself was pasted into a homosexual porno (yes, I have a hard time imagining this technique too). The future action movie star was lucky because when he realized what was going on and asked for the recording to be destroyed, he was listened to. On another occasion, he agreed to appear in a film: still struggling with English, he understood that it was a feature film. Of course, it was a very erotic production… Fortunately, a polite refusal was enough here as well and no one used the actor – or at least no one lived to tell about it. The actor himself talks classily about his adventures in his youth:
I posed for gay magazines, which got a lot of comments. I do not care. Homosexuals, just like bodybuilders, struggle with stereotypes about themselves. People have misconceptions about both.
Not porn, but...
Penélope Cruz – she started with performances in the erotic series Pink Aeries. She was only 16 at the time.
David Duchovny – was one of the main characters of a frivolous series Red Shoe Diaries.
Matt LeBlanc – another star of Red Shoe Diaries.
Helen Mirren – maybe she didn't star in porn, but in the famous costume and erotic production Caligula. The best proof that being a lady does not depend on how often and in front of how many people a woman undresses.