Erotic Cinema
Dangerous LUST. Movies about SEXUAL OBSESSIONS
Sex has a dark side. It can be an addiction, a perverse obsession, a factor of demoralization, blasphemy, sacrilege.
Sexuality says a lot about us, but it also reveals disturbing, hidden preferences. Instead of running away from it, you can fully surrender to it, as the heroes of many movies have done. Sex, also in the cinema, is not just a romantic act during which two people lose themselves in love. It also has its dark side. It can be an addiction, a perverse obsession, a factor of demoralization, blasphemy, sacrilege. The 10th muse also touches on this sphere, often breaking taboos. Here are the most interesting movies about sexual obsessions.
Belle de Jour
Luis Buñuel's film, as befits an outstanding creator of surrealist cinema, refers to the mysteries of the human psyche, opens the previously closed door of the subconscious. In Belle de Jour, Buñuel enters the head of the beautiful Séverine Seriza, a young married woman who exudes the aura of a delicate and elegant lady. The director, penetrating her psyche, looks at the woman's hidden obsession. Although Séverine is in a happy relationship, she cannot share intimate moments with her husband, she cannot find sexual satisfaction with him. She secretly fantasizes about sadomasochistic submission, being humiliated, beaten and raped, which brings her perverse pleasure. Secretly from her husband, she starts working as a prostitute in the exclusive house of Madame Anais. She takes the name Belle de Jour because she can only indulge in clients during the day, when her husband is working. Although the woman knows that she is acting inappropriately, haunted by memories of childhood abuse, she begins to live her second life more and more intensively. Over time, she begins to imagine herself having passionate sex in front of her husband. The woman, due to the social role imposed on her and childhood trauma, sheds successive layers of conventions, crosses the next boundaries of decency. Belle de Jour is a great film full of psychoanalytic tropes that portrays a seemingly innocent high society woman hostage to her own dark sexual fantasies with fatal consequences.
Love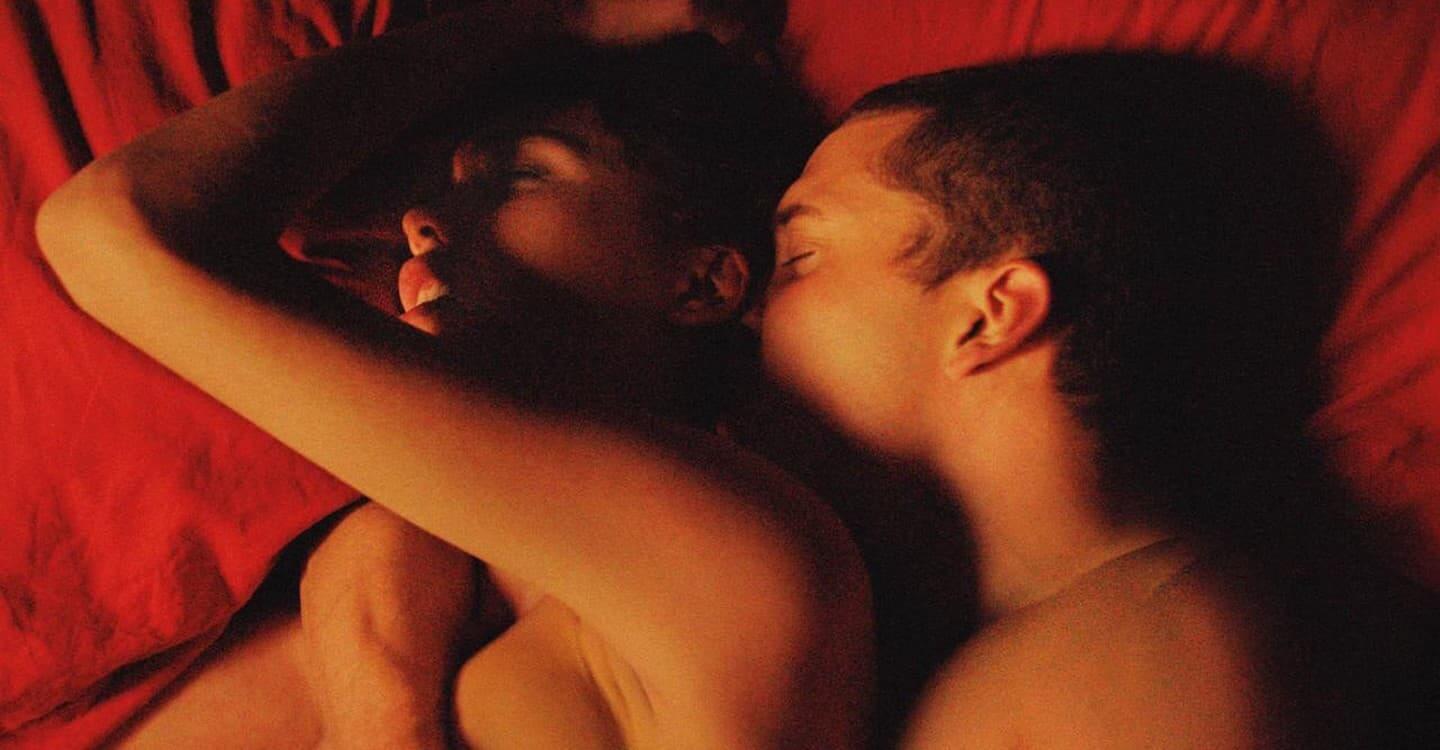 Love is an over two-hour session of visually mesmerizing sex. However, an interesting picture of a toxic relationship emerges from the mosaic of kisses, intertwined bodies and orgiastic sex acts. The main character, Murphy, is not satisfied with his life. He has a partner and a child, but he still thinks about his ex-girlfriend. When she gets a disturbing call from her mother, the viewer begins a sentimental journey with her boyfriend to memories of a passionate relationship with Electra. Murphy and Electra's relationship was purely hedonistic. The couple did not follow the rules of monogamous relationships. They had sex in threesomes, experimented in darkrooms, swapped partners. But they always did it together, no secrets. Their game, however, was so risky that it was easy to hurt someone's feelings. Electra left after learning that Murphy had been having sex with their friend, young neighbor Omi, while she was away. However, from Murphy's memories, it can be concluded that this was not the first moment when the couple's relationship was on the line. There were no inhibitions in Murphy and Electra's sex lives. The heroes went further and more confidently in their experiments, not once exceeding the allowed limits. The ubiquitous sex began to drown out the problems in the relationship. They obsessively began to sink into a world of orgiastic pleasures so as not to have to pay attention to their disintegrating relationship. Sex has become a drug for them. Something that kept them together and, paradoxically, kept them apart. Love is basically a portrait of a difficult relationship between two people who, although emotionally dependent on each other, cannot be together. And although Gaspar Noé has a real talent for showing erotic scenes and focuses on a thorough exploration of desire, sex in Love is primarily a destructive factor to which the main characters consciously submit.
Shame
Shame is a raw portrait of a man drained of sensitivity who loses himself in the inability to satisfy his strong erotic needs. Michael Fassbender perfectly bit into the character of Brandon, a sex-addicted manager. Brandon's work computer is overflowing with pornography, and he has to escape to the toilet during work to relieve the tension by masturbating. He can't commit to any woman permanently, he leads a monotonous life, which he fills with sterile sex with prostitutes. And above all, He feels shame. Shame on what he has become. Shame on him for suppressing his emotions. Shame that the cry for help is drowned out by empty sex. The turning point in the film is the arrival of Brandon's sister, Sissy, a delicate, sensitive woman who is emotionally dependent on her older brother. The man will see in her the same, hidden weaknesses – pain, sadness, growing complexes. It's Sissy who will make Brandon realize that he consistently keeps himself away from the intimacy he really lacks. However, it is difficult to break out of the spiral of addiction. Shame is a particularly dark picture of the demonic power of addiction. This is a film that at its most repulsive shows how sex can become a purely mechanical activity, only temporarily satisfying a debilitating obsession.
The Piano Teacher
The Piano Teacher is a piercing film about self-destruction and masochism. The title character of Michael Haneke's work is Erika, a mature woman, a teacher at the Viennese music conservatory. He demands absolute obedience and full commitment from his students. Although her work seems stable on the surface and her piano playing is perfect, her private and emotional life is in chaos. A woman lives under the same roof with her controlling mother. She has self-destructive tendencies, never smiles, and above all, her sexuality repressed for years finds an outlet in disturbing paraphilias, such as self-mutilation of the labia, voyeurism, maniacal spending time in pornography shops or smelling frozen semen on found tissues. Her perverse fetish is to be beaten, abused, smothered, but not for sexual pleasure. A woman suffering mental torment wants to achieve the fullness of physical pain. The man who can give it to her turns out to be the young talented pianist Walter. A perverse, disturbing romance begins between the characters, full of dangerous stimuli, physical and mental violence. The Piano Teacher strikes with how intensely the pain, suffering and disintegration of the main character are felt in it. This is achieved primarily by showing her dangerous obsessions and inability to achieve satisfaction. Haneke's film is full of sex scenes, but they have nothing erotic about them – they are an escalation of violence and disgust. Erika's disorders lead her straight to her ultimate downfall.
The Realm of the Senses
For some, The Realm of the Senses will be nothing more than obscene pornography, for others – an artistic study of obsession, morbid control and the relationship between love and death. The film was based on real events that once shook Japan. The main character is Sada, an escort girl working at the Kichizo inn. She is also his mistress – together they experience all possible sensual pleasures. Over time, however, their relationship becomes dangerously perverse. The desire to make love all the time, the constant pursuit of ultimate sensations and crossing subsequent boundaries lead to the increase of violence, which is to intensify the bed experience. Sada becomes increasingly possessive and jealous of Kichizo. She begins to go mad – she wants Kichizo to belong only to her, and she consistently strives for it. A mutual obsession with having sex and experiencing sadomasochistic pleasure grows between the characters. Sada begins to bite his partner until he bleeds and suffocate him with a red handkerchief to prolong his orgasm, resulting in the man's death. Sada realized her plan – she possessed Kichizo forever. In the finale, the woman cuts off the member of her beloved, which she will carry with her like a talisman, and with his own blood writes on his chest: "Sada and Kichi together forever." The world of carnal pleasures has become the only thing that matters to the two lovers. Sada became so addicted to the man that it pushed her to a bloody crime. A crime dictated by obsessive love.
Behind Convent Walls
Walerian Borowczyk is an outstanding master of erotic cinema. In his films, he often combined eroticism with what was forbidden, immoral, iconoclastic and controversial. The Pole has often reduced religion to the sphere of perversion, sinful lust, incest and blasphemy. This was the case, for example, in one novella from Immoral Tales, in which a young girl raised by a strict, God-fearing babysitter is locked in a room hung with holy pictures. The girl, instead of praying fervently, starts compulsively masturbating with a cucumber, getting excited by the pictures in the prayer book. However, a real explosion of desires suppressed by religious imperatives takes place in the 1977 film Behind Convent Walls. The action takes place in a monastery located in central Italy. The nuns living there have a problem with curbing their primal carnal desires. Even divine providence, deep faith or convent control are not able to satisfy the lack of love and carnal intimacy. That is why the thick walls, apart from religious songs, are filled with groans of pleasure. Young nuns, in secret from the Mother Superior, carve a makeshift dildo out of wood and secretly masturbate. One of them is even decorated with the face of Christ on the handle. The women, collectively obsessed, engage in casual sex with both male visitors and other nuns. Behind the walls of the monastery is a manifesto of sexual freedom. No wonder Borowczyk was infamous and was called a provocateur or the creator of soft porn. He is a rebellious, but also incomprehensible artist, and in his hands obscene is only a tool for deliberation. You can look at Behind Convent Walls as a film about human nature and about its indelible, unquenchable sexuality.
The Night Porter
Liliana Cavani's 1974 film caused a lot of controversy. No wonder – after all, he plays with the very difficult and serious subject of concentration camps, the extermination of Jews and Nazism. And he does it through the prism of the sexual relationship between the executioner and the victim. The Night Porter talks about Max and Lucia's relationship. Max is a former SS officer, after the war an unobtrusive porter of a Viennese hotel. Lucia, on the other hand, is a former prisoner of the concentration camp where Max worked. Although the characters meet after many years in completely different circumstances, they resurrect their perverse relationship from the camp years. Max is happy to re-enter the role of tormentor, and Lucia seems to be happy to submit to his domination. They reenact their sadomasochistic relationship, but soon the tables start to turn and it's Lucia, the former victim, who begins to dominate, and Max meekly accepts the punishment, feeling guilty for what he once did to the woman. Max kisses the wounds on Lucia's arm that he once inflicted on her, while the woman, as if in retaliation, breaks the perfume bottle and makes Max stand on the broken glass with his bare feet. Such images aroused a wave of indignation, but they can be interpreted as a deviation caused by a strong trauma from the past. The deviant sexual relationship during the war was such an intense experience for the two that nothing can compare to it now. They need equally strong stimuli, equally exciting perversion, to experience any pleasure or tenderness. Only by obsessively recreating a past relationship can they feel alive.
Crash
Crash is a film about the obsession of balancing on the verge of life and death. Searching for more and more intense stimuli. Achieving the perfect orgasm, which at the moment of the highest elation will turn into death. The protagonists of this extremely controversial film by David Cronenberg are a group of people with a strange sexual fascination with car accidents. The Canadian looks in particular at a couple who survived a car accident. After this event, Catherine and James develop a strange obsession that leads them to watch other disasters and maniacally recreate them. The adrenaline of brushing against death awakens in the heroes an overwhelming attraction to cars. When James and Helen's cars collide head-on, their lust awakens and they have crazy sex in front of the wheel. After all, recreating fatal car accidents becomes the ultimate thrill for the characters in the film. The greater the crash, the closer to death, the greater the sexual stimulation. One of the characters, Gabrielle, is disfigured by a deep scar on her thigh as a result of an accident. James, however, is indecently excited by this sight – he has sex with a woman, where the role of the vagina is played by a wound on the thigh. Crash's characters are prisoners of a dangerous obsession that drives them to risk more and more. Masturbating to car safety tests is not enough – to achieve fullness, you need to feel the cutting, cold metal of the car body on your own skin.
Nymphomaniac
Lars von Trier's famous film could not be missing from the list. As the two-part Nymphomaniac completes the trilogy of depression (along with Antichrist and Melancholia), there was no doubt that the screening of the film would turn out to be a depressing experience. The director takes on a mental disorder called nymphomania. It penetrates them from the inside, illuminating the darkest and, above all, strikingly sad side of this addiction. Initially, a woman telling the story of her life to a man she met by chance says that it all started with the fact that she expected more. More intensity, more beautiful sunset. The main character tells her faithful listener how nymphomania left its mark on her life. At first, sex seems to enter a woman's life quite harmlessly. Her promiscuity is shown as an expression of youthful rebellion. Love means nothing to a young girl. The heroine considers her lust with the addition of envy. Over time, however, thinking about sex, constantly changing partners, collecting new sensations, intensifying bed sensations turn into an obsession. Sex becomes the only sedative for a woman, and finally – an ordinary addiction, and as it happens with addictions, they feed on sadness, weaknesses and life dramas. Joe is not satisfied – her body becomes an instrument devoid of love and tenderness. It serves only to satisfy compulsive needs. "My addiction was caused by lust, not craving. My lust led to destruction. Every step of the way," the main character confesses. The addiction drowned out any sense of guilt or empathy. He was heartless. In the end, it became a straight road to destruction. Although the main character initially creates herself as a bad person who used people only to satisfy her own desires, it is impossible not to sympathize with her. Nymphomaniac is a deeply emotional film, and its dark symbolism and visual metaphors make it a great psychological film as well.